Two advantages you have to know about Xinhai hydrocyclone unit
By:Xinhai
2018-05-02 | Browse the number (1831)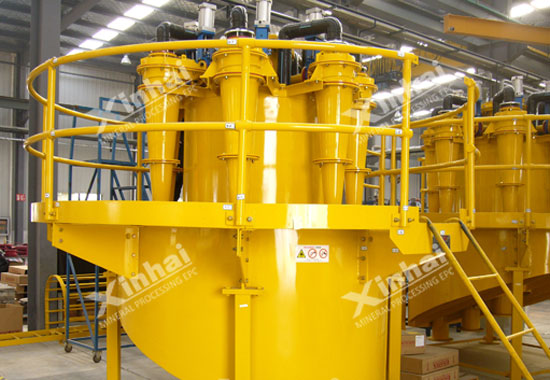 Xinhai hydrocyclone unit is improved by many professional experts who combine two incomparable advantages—large processing capacity and high classification level.
Generally, the smaller hydrocyclone diameter, the finer classification, which means that only one hydrocyclone hardly achieves two goals at the same time—–large processing capacity and high classification level.
In fact, some large scale mining plants need both goals, which can be met by a group of hydrocyclone in parallel or series connection. We provide a variety of hydrocyclone models. The liner of hydrocyclone and many other significant and vulnerable parts are made of Xinhai wear-resistant rubber, which is patented and manufactured by Xinhai, so the service life is greatly extended.
Each cyclone feed opening of cyclone unit is installed with knife gate valve, which is equipped with reliable operation and wear resistance.
According to plentiful practice and theories, Xinhai has established a large application database of Xinhai wear–resistant hydrocyclone, and designed hydrocyclone calculation selection software. It can help customers to choose the best hydrocyclone or hydrocyclone unit, recommend reasonable feeding pressure and pipe size.
In the early stage of project, customers need to initially select hydrocyclone specifications to estimate investment or analyze project. Xinhai also published a hydrocyclone rapid selection chart to help customer solve this problem.