Something about XCI Hydrocyclone
By:Xinhai
2018-05-17 | Browse the number (5168)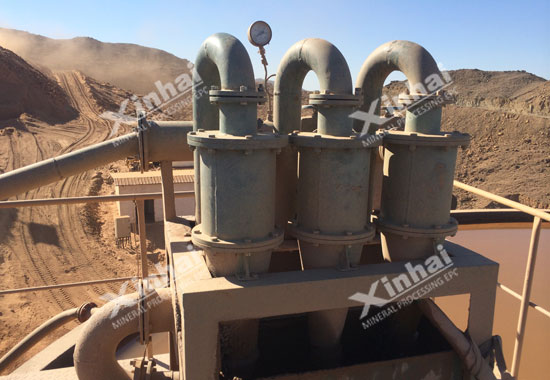 In the mineral processing, hydrocyclone is a common classifying and concentrating equipment. It is featured with the simple structure, easy to manufacture, high classifying efficiency and small area occupation. However, it is very easy to wear and has a short service life. Therefore, Xinhai greatly improved the performances of hydrocyclone, and developed a new type of hydrocyclone—XCI hydrocyclone.
The working principle of the XC1 type hydrocyclone is similar to that of the ordinary cyclone. The slurry is pressed into the feeding pipe and make a rotary motion in the cyclone. The coarse particles with heave gravity and centrifugal force will make spiral motion along the cylinder and are discharged from the sediment port. Fine particles by small gravity and centrifugal force and continue ore feeding will be pressed to the center of the cyclone and make the upward spiral movement. Finally, it is discharged from the overflow port.
It adopts three-dimensional snail type feeding structure, achieves three dimension feeding from the circle and axis direction, eliminates the confused flow disturb nearby the overflow tube after materials get into the cyclone and improve the classifying efficiency. Square tube feeding type makes materials closer to the wall of the cyclone and causes the least resistance to minerals and largest radiation strength and least abrasion to the feeding box. The unique cone adjusting device at the feeding inlet can adjust the size of the cyclone inlet to improve the classifying efficiency. The cone-adjusting valve increases the number of changeable parts in the inlet tube, avoiding the trouble of changing the whole liner of the cyclone. A professional cyclone selection software will help you to choose a correct type rapidly.
At present, XCI hydrocyclone is very suitable for separation and dewatering of most minerals.