What guarantees mineral processing plant work smoothly?
By:Xinhai
2018-05-16 | Browse the number (2845)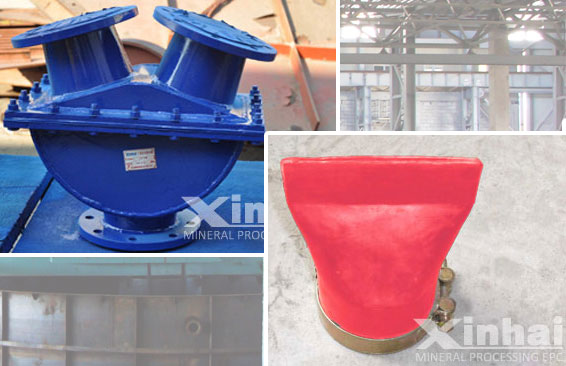 Valves are applied in the pipeline working, and efficient valves can guarantee the low loss and smooth working of the whole mineral processing plant. Here, we will introduce you some details about two type of valves—rubber check valve and Y-ball valve.
Rubber Check Valve
1.What are the types of rubber check valve?
(1) Flange type: the rubber flange, valve body and the duckbill combined together with the backing strap can be naturally connected with the metal flange, directly installed in the tank body, pipeline and cofferdam.
(2) Sleeve type: the strip metal ring and nut make rubber check valve seat fix on the water outlet pipe or tank.
(3) Square hole multi-position: suitable for square pipe or tank, Xinhai rubber industry can produce this type according to customer pipeline shape.
2.What characteristics is the opening of flexible check valve?
(1) Small opening pressure, generally more than 0.01 mm (equivalent to 0.001 Mpa) water head can open, and can be opened in the static condition.
(2) If the external pressure is bigger than the internal pressure, the valve will self-close and prevent reverse flow.
Y-Ball Valve
1. Outstanding ball valve design of opening and closing, no blocking
Creative opening and closing device control the valve by slurry pushing the ball slurry flow driving ball into a pipe orifice and close it; slurry passes through another pipe orifice. So it will not cause the blockage.
2. High resilience ball valve, guarantee sealing
The ball wrapped by Xinhai wear–resistant rubber which can effectively open and close the two valve ports in Y–ball valve.
3. World advanced rubber liners, prolong the service life of valve 2 times
Xinhai wear–resistant rubber as the liners of Y–ball valve with 128% wear resistance index can protect valve body from the wear of slurry and prolong the service life of valve.
4. Automatic control system, more flexible and simple
The Y–ball valve relying on the pressure of slurry to change the valve does not need people to control realizing automatic control, simple and flexible
5. Valve direction changing by slurry pressure, get rid of a prepared valve
Adopting Y-ball valve realizes pipeline setting of two pumps with one valve. Reducing the investment cost, only buying one valve and investing one pipeline.