Did You Choose the Right Rubber Liner?
By:Xinhai
2018-05-11 | Browse the number (2978)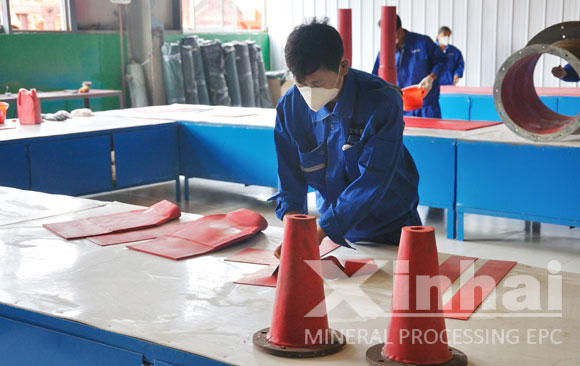 There are many kinds of ball mill liner in grinding process, such as high manganese steel liner, rubber liner, alloy liner. Traditional ball mill liner is featured with short service life, complex replacement, etc. gradually, rubber liner is used in mineral processing industry by relying on its long service life, and which is widely applied in more and more mineral processing plants.
Ball mill rubber liner is particularly suited to those mines that contain acidic ore. Acidity minerals such as pyrite, in the process of crushing and grinding, react with oxygen and water and generate sulfuric acid. The metal liner will be corroded by sulfuric acid and this will shorten its service life and replacement cycle, leading to the mill's operation efficiency being reduced and affect the normal mine production. Rubber liner has characteristics of acid resistance and abrasion resistance which can improve the mill's operation rate and reduce the grinding cost.
Ball mill rubber liner is widely used in all kinds of wet grinding mines. Its advantages include light weight, wear resistance, acid resistance, alkali resistance, long service life, low energy consumption and steel consumption, etc., therefore, ball mill rubber liner has extensive application and basically can be used in all kinds of mines. However, rubber liner is generally not used in dry grinding because the temperature of the material and the shell rises continuously and rubber liner can't stand high temperature. Therefore, generally ball mill rubber liner is not used in dry grinding.
With more and more research on rubber, Xinhai has successfully obtained eight patents. This rubber liner is featured with long replacement cycle, high operation efficiency, energy-saving and less steel consumption. In the future, Xinhai ball mill rubber liner will be used in more and more mineral processing plants.