Two major functions of hydrocyclone in ore beneficiation process
By:Xinhai
2018-05-24 | Browse the number (3138)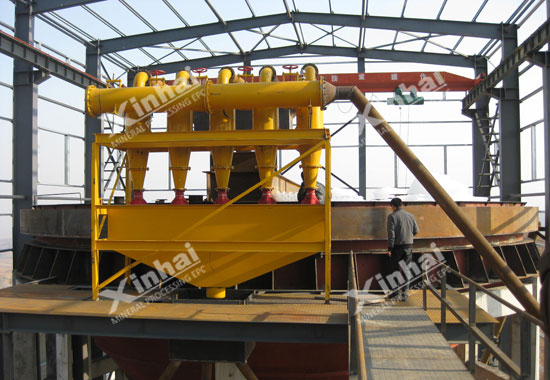 Nowasdays, hydrocyclone is playing an important role in dewatering, classifying and thickening fields. But there are many people keeping confused about its various functions. Here we introduce the main functions of hydrocyclone.
1.For classifying
Generally, hydrocyclone is applied in gravity separation process for desliming and fine particles classifying. For example, in the tin ore beneficiation process, hydrocyclone is often used to classify feeding ore with high mud content (-10 mesh of 70-80%). In desilting part, -10 mesh sand is occupied 10%, and get the mud removal efficiency of more than 80%. Hydrocyclone also can recycle fine stone, which reduces the overflow grade. With these advantages, heavy physical labor becomes mechanization to improve working condition and bring good results in technology and economy.
In flotation process of a lead-zinc ore grinding system, hydrocylone is used to control classification, which can ensure effective ore fineness and reduce middlings. Besides, it also can use the single tank to select Pb to avoid overcrushing phenomenon, improve the classification efficiency. Based on keeping the original lead and zinc recovery rate, hydrocyclone installation can effectively improve the processing quantity more than 7.3%.
In the tailings recovery, Xinhai adopts hydrocyclone to recover sulfur of pyrite tailings (sulfur content is over 24%). Without adding any equipment installation, this plant obtains the 30-35% sulfur concentrate, and the recovery rate reaches 60%. In addition, this plant also uses hydrocyclone as the alternative classifier in strengthening dressing process. Finally, this small improvement made -200 mesh overflow account for 70%, greatly improving the monomer separation degree.
2.For dewatering
Xinhai is the first company who came up with the concept of tailings dry stacking and creatively developed the new process. Xinhai hydrocyclone improves the dewatering efficiency to 70%-80%.