Wear-resistant slurry pump
World advanced wear – resistant rubber wet parts, prolong the service life of equipment
Light rubber impeller, saving more than 40%
High speed, improve the transmission efficiency of 30%
Rubber wet parts, perfect protection of the pump body, reduce the noise of 60%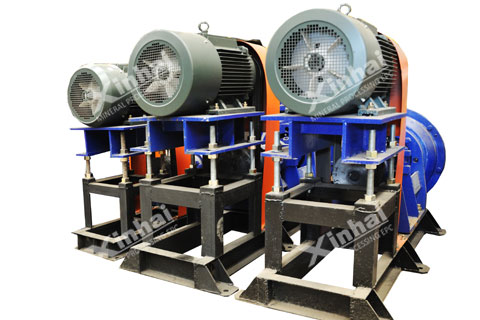 The international leading products, high wear resistance is famous all over the world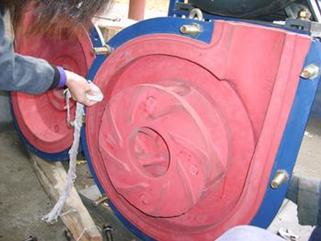 Slurry pump impeller and the casing are lined with Xinhai high wear-resistant rubber ensuring that the pump body is not subject to wear. In the same project, the service life of Xinhai slurry pump is 2 times longer than other metal pump life reaching the international top quality. The rubber liners wear index has reached 128%.
National green, energy-saving products, reduce energy consumption
Rubber impeller with smaller specific gravity is very light. Under the same flow and head, the consumption is less than metal impeller's by 45%.
The high-speed rotation of the impeller, the overall efficiency is increased by 30%
Internal rubber liners with small specific gravity can effectively improve the impeller speed. Maximum flow rate than other slurry pump can improve the efficiency of the whole 10-20%, overall efficiency increased more than 30%.
Small specific gravity wet parts, convenient maintenance, low noise

Wear-resistant slurry pump protected by wear-resistant rubber which can avoid slurry directly contact with the pump body reducing the noise more than 60%, the failure rate, the number of repair personnel and the operational maintenance cost.
Application of XPA slurry pump
Xinhai wear-resistant slurry pump is suitable for processing the high abrasion slurry
For example:
Metal smelting plant: convey slurry
Sand plant: transporting and conveying sand and gravel, feeding sand and water all types of classification and dewatering plants
Coal preparation plant: classifying, screening and conveying heavy medium, conveying coal pulp
Irrigation systems and dredging: silt removal in dams and river bed, sand classifying
Ceramics and glass factory: porcelain clay and sandstone transportation, feeding hydrocyclone and effluent disposal etc.
Steel works: conveying slurry, rust and corrosive liquid etc.
Note: please specify if applied where oil and chemicals are contained
Product FAQ
Why does not the water come out of the slurry pump?
The motor does not start, pipeline and filter jam, or the pipeline rupture; customers should check and clean timely cleaning.
Product parameter
Specs

Flow
(m³/h)

Max head
(m)

Rotation speed
(rpm)

Max rated power
(KW)

Max efficiency
(%)

Impeller diameter
(mm)

Weigh
(kg)

External dimension
(mm)

50/50

20-60

38

800-2400

22

51

200

156

725×482×491

80/80

30-100

45

600-2100

45

53

256

326

915×590×595

100/100

60-160

50

600-1600

75

57.5

340

440

999×648×660

150/125

100-260

47

400-1400

110

63

372

608

1280×736×758

200/150

160-450

47

450-1200

132

69

433

736

1313×788×822

250/200

300-900

46

400-1200

250

78

454

1250

1600×812×956

300/250

400-1500

45

300-900

600

73

610

1956

1698×966×1083
Related products
Wear-resistant slurry pump High head slurry pump Alloy Slurry Pump Submerged slurry pump