Do You Really Know XPA Type Wear-Resistant Slurry Pump
By:Xinhai
2018-04-16 | Browse the number (1727)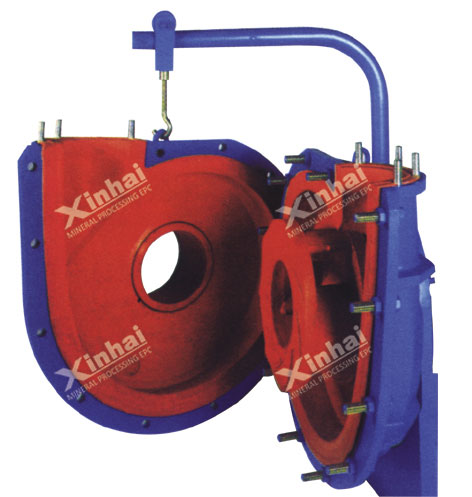 Xinhai XPA type wear-resistant slurry pump is a horizontal material conveying pump, which can be used in mine, metallurgy, electric power, coal, chemical industry, building materials, etc.
The service life of slurry pump is generally lower in the ore dressing process, especially used for conveying abrasive materials. Therefore, the wear-resistant performance of slurry pump is the most concerned problem for users. Xinhai XPA type wear-resistant slurry pump adopts top wear-resistant rubber that is outstanding in wear-resistance. Its corrosion resistance, high elasticity and high strength have very good protection to the pump, which makes XPA type wear-resistant slurry pump become the best choice for conveying abrasive pulp or corrosive liquid containing solid material.
Sealing is another standard to evaluate the performance of slurry pump. All Xinhai slurry pumps adopt three kinds of sealing methods: dry seal, hydraulic seal and packing seal. These three kinds of sealing forms can be changed according to the requirements of customers and working conditions of plant, which expand the applicability of slurry pump. The sealing material and structure of Xinhai slurry pump are more reasonable and reliable, which is compatible with the wear-resistant impeller and sheath.
As to conveying efficiency, because of super abrasion resistance and small proportion of impeller and sheath, the maximum flow and maximum lift of XPA type wear-resistant slurry pump is higher 10%-20% than other slurry pumps (such as PNJ pump), and the efficiency is higher 30% than other's.
The strong performance of Xinhai XPA type wear-resistant slurry pump also includes low energy consumption. Due to the proportion of rubber (about 0.97) is small, so Xinhai XPA type wear-resistant slurry pump has smaller power than the metal pump (7.85 averagely), and the energy-saving effect is more obvious.
What's more, Xinhai often uses Pumptec system when selecting products for users. According to the physical properties of pulp, pipeline and pipe fittings, this system can select the best specifications, electrical power, rotational speed and line.
Notes: concentration of conveying pulp: <65%
Temperature of conveying pulp: -40℃-70℃
Specification


Flow

(m³/h)

Lift

(m)

Rotate Speed

(rpm)

Maximum Permitted, Capacity (KW)


Peak Efficiency

(%)

Impeller Diameter

(mm)

Impeller Diameter

(mm)

Impeller Diameter

(mm)

50/50



20-60
38

800-2400




22




51




200




156




725×482×491




80/80



30-100
45

600-2100




45




53




256



326


915×590×595



100/100

60-160
50

600-1600




75




57.5




340




440




999×648×660



150/125
100-260
47

400-1400




110




63




372




608




1280×736×758



200/150
160-450
47

450-1200




132




69




433




736




1313×788×822



250/200
300-900
46

400-1200




250




78




454




1250




1600×812×956



300/250
400-1500
45

300-900




600




73




610




1956




1698×966×1083